MBH-I :
Started as a dispensary in 1975, due to the honesty of purpose and commitment, it took the form of the first full-fledged hospital at Wahdat Road Lahore. Mulana Abdul Rehman inaugurated Mumtaz Bakhtawar Memorial Trust hospital Old Block in 1975.
This is a hundred bedded hospital situated right close to the main roads of Lahore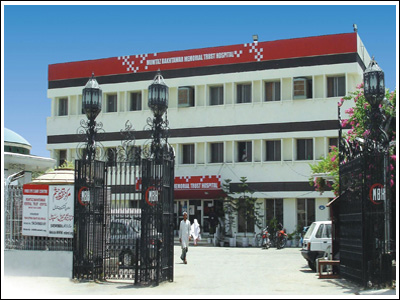 Surrounded by green fields of Punjab University Campus and a beautiful garden of horticulture department of LDA. A 30 feet road off the Wahdat road leads straight to the hospital this road has been specially built for the hospital and named after its founder. Wahdat road links Multan road and Ferouzpur roads. Two busiest roads of Lahore. Government and private transport is available on the wahdat orad making the hospital approachable for all classes of people. The hospitals catchments area includes Allama Iqbal town, Wahdat colony, new Muslim town and new campus of Punjab university. Whole of the Lahore is precisely approachable with a maximum distance of 45 minutes drive. Other areas which are located on multan road area also within a close reach of hospital. These are Mustafa town, wan town ittefaq town , education town hanjarwal village and Waris colony etc. this hospital especially suits to poor , down trodden and middle section of society. Mumtaz Bakhtawar memorial trust hospital is a blessing for patient. Who cannot afford expensive treatment in the commercial hospitals. An introduction to various department of hospital is described below.